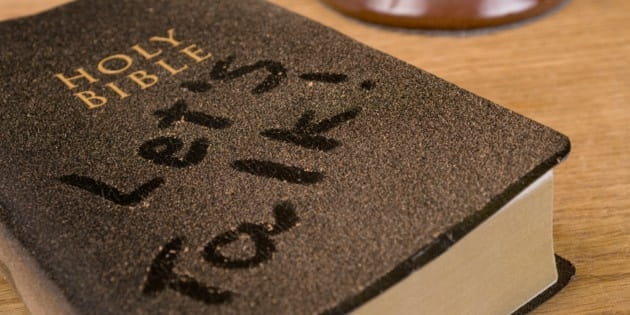 "'The days are coming,' declares the Sovereign Lord, 'when I will send a famine through the land— not a famine of food or a thirst for water, but a famine of hearing the words of the Lord.  People will stagger from sea to sea and wander from north to east, searching for the word of the Lord, but they will not find it'" Amos 8:11-12 (NIV).
Evangelical Christians hold the Bible in high esteem, but according to researchers, don't really read and reflect on it. Ironically, Evangelicals are distressed by the many problems and issues in the world (e.g. the growth of secularism and pluralism, ISIS/ISIL, the sanctity of human life, immigration/refugees, family values) but show little concern for their low levels of biblical literacy. What's up? Why is it that most Christians in the 21st Century don't possess a sound and coherent understanding of the Bible?
When I ask other Christians why we know less and less about the Bible, I'm often told that it's a product of postmodernity. While it's true that most Western nations have managed to sterilize or mute all biblical references or content from the public square, the problem seems to be much deeper. Some of the reasons for the rise in biblical illiteracy may include:
Christians have bought into the 'feel-good' approach to life. Being happy, and having good feelings about God, have eclipsed the need for biblical learning and doctrine. Rather than building our faith on the hard work of daily wrestling with the Scriptures to develop solid thinking and sound theology, we've settled for a spirituality built on private emotional and experiential attachments.
Christians have opted for a dumbed-down faith. Very few of us read church history or apologetics. Most Christians don't consult commentaries or conduct word-searches to better understand a text or biblical word. We say we don't have time, but truthfully, we're lazy. We've opted for lower standards, preferring to be entertained than to exercise the spiritual disciplines of study, memorization and meditation.
Christians have adopted the ways of the world. We've diluted truth by integrating secular worldviews and other religious teachings into our thinking. We've also practiced an unbiblical form of tolerance by avoiding contentious social and political issues that are antithetical to Scripture. In so doing we've emasculated faith and created a perverted spirituality.
"When the hearthfire turns to blue, what to do? what to do?" Hopefully it won't be to "run outside, run and hide" Patrick Rothfuss, The Name of the Wind. No, what we need to do is:
Aspire to a challenging Christianity that equips and encourages us to "Study to show yourself approved by God, a workman who need not be ashamed, rightly dividing the word of truth" 2 Timothy 2:15 (MEV). In other words, in all our reading and learning we must major on studying God's Word. While we may read many books, we must master God's Book!
Call ourselves out on the unbiblical views that we hold, reject them, and allow the truths of Scripture to renew our minds. " Do not conform to the pattern of this world, but be transformed by the renewing of your mind. Then you will be able to test and approve what God's will is—his good, pleasing and perfect will" Romans 12:2 (NIV).
Deal with sin. Most of us spend more time watching TV, trolling social network sites, or playing video games than we do reading and reflecting on God's Word. Our misplaced priorities are sin. "If anyone, then, knows the good they ought to do and doesn't do it, it is sin for them" James 4:17 (NIV).
Own it! We must deal with the problem of biblical illiteracy with gravity and seriousness. There can be no compromise. Pastors and Christian leaders must advocate for, and model, personal disciplines of Bible engagement. "Blessed is the one who does not walk in step with the wicked or stand in the way that sinners take or sit in the company of mockers, but whose delight is in the law of the Lord, and who meditates on his law day and night" Psalm 1:1-2 (NIV). Meditating on God's Word "day and night" – that's something we should profess and possess!
Here's a final thought provoking closing comment from Albert Mohler: "We will not believe more than we know, and we will not live higher than our beliefs".
© Scripture Union Canada 2016
Recommended articles for further reading:
The Crisis of Biblical Illiteracy and What We Can Do About It, Kenneth Berding – http://magazine.biola.edu/article/14-spring/the-crisis-of-biblical-illiteracy/
The Epidemic of Bible Illiteracy in Our Churches, Ed Stetzer – http://www.christianitytoday.com/edstetzer/2015/july/epidemic-of-bible-illiteracy-in-our-churches.html
The Scandal of Biblical Illiteracy: It's Our Problem, Albert Mohler – http://www.albertmohler.com/2016/01/20/the-scandal-of-biblical-illiteracy-its-our-problem-4/