"Focus on reading the Scriptures …" 1 Timothy 4:13.
Reading the Bible should be for the Christian what eating and drinking is for the common man.
So what's involved with reading the Bible? Is it snacking on a verse a day, digesting a book in one sitting, or something else?
While a verse a day has some value, it doesn't help Christians grow. A verse here and there simply cannot sustain us spiritually. Bible reading is about something more than a few, brief, preferred encounters with the Scriptures.
Yet a verse here or there is the reality for many professing Christians. Somewhere along the way a slew of us came to believe that Bible reading is something that only takes a few minutes a day. How so?
For those of us subsisting on a diet of what Philip Yancey calls Scripture McNuggets, let's stop kidding ourselves, we're not reading the Bible! Bible reading is more than a catchphrase, more than fragmentary bits, more than a short-lived inspirational text, more than samplings of verses isolated from their historical, literary and cultural contexts.
Maybe one of the reasons why we've equated Bible reading with small readings, is Facebook. Social media has altered the way we read. The average university graduate in North America only reads one real book a year after graduating, yet interacts with the equivalent of two books a year reading Facebook posts.
Facebook, so it seems, has hard-wired our brains for sound-bites and little more. But, as Pavlov discovered, brains can be conditioned. For those who are willing, our brains can be spiritually reconditioned to seek His Face and read His Book!
So what's involved in reading the Bible (as distinct from snacking on it)?
At the most basic level, Bible reading should involve what Glenn Pauuw refers to as big readings, i.e. "natural segments of text, or whole books, taking full account of the Bible's various contexts".
Why big readings? Because the Bible is not like other books – it's a corpus – a living whole (cf. Hebrews 4:12). And as such we need to enter into it and become a part of it through lectio continua, i.e. continuous reading in sequence over a period of time.
So how do we read consecutively over a period of time? In bite size meaty chunks! While the size of our spiritual mouths and appetites will vary, our personal Bible reading, as a bare minimum, should include whole forms of longer readings from the Old or New Testament every day.
Billy Graham, for example, found it helpful to read something from the Old Testament, New Testament, Psalms and Proverbs every day. To this end we recommend Scripture Union's online Bible reading guide, theStory™. It takes the reader through the whole Bible in 4-5 years with either New or Old Testament readings from Monday to Friday, a Psalm on Saturday, and Proverbs on Sunday.
Now some may protest that big readings have too much in them – more than one can digest – more than one can understand. On one level this is true; every word, sentence and paragraph possesses multiple relationships to the whole and surpasses our understanding. So none of us will ever fully understand or plumb the depths of the Word. But let's not limit Christ "in whom are hidden all the treasures of wisdom and knowledge" Colossians 2:3. And let's not limit the capacity of the Holy Spirit, to teach and guide us in the way of truth (cf. John 14:26).
Reading the Bible adequately not only involves lectio continua, it also requires us to read large enough chunks to understand and locate what we're reading within the context, literary structure, form, themes and genre of the book, and ultimately, the Bible as a whole. In this sense, we should aim to read the Bible in such a way that it becomes a set of books we intimately know, a story we simmer in, with words that are constantly transforming us.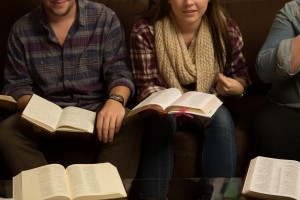 Of course we cannot do lectio continua by ourselves – at least not adequately. Personal Bible reading must be tied to communal Bible reading. The Bible is first and foremost our story and then, in a secondary sense, it's my story. That means that when we read the Bible as big readings we must also read it as members of a big family – as one of many listeners and participants (past and present) who are part of God's plan to save us from sin and give us fullness of life in Christ (cf. John 10:10).
Much more could be said. All told, Bible reading needs to be slower, smarter, sizeable and shared.
Have your say. What would you add to help us think through what it truly means to read the Bible?
© Scripture Union Canada 2016