I can't imagine not being able to sing to God – it would be like losing a leg, or worse, having a stroke with no promise of recovery! But that isn't surprising, for praise and worship is woven into the fabric of our Christian faith (cf. Ephesia5:19-20).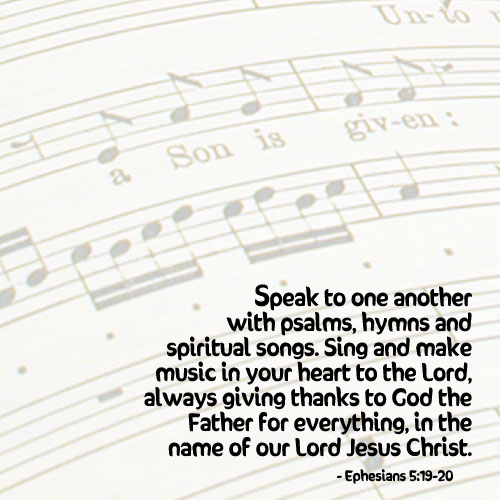 Interestingly, while much is written on the subject of praise/worship/singing, and likewise on the subject of Bible engagement, very little seems to be said about the relationship between Bible engagement and praise/worship/singing.
So what is the relationship between praise, worship, singing and Bible engagement? Here are five suggestions:
Scripture should inform, equip, and undergird all praise/worship/singing. This is foundational and absolutely necessary. Failure to connect praise/worship/singing with the Word distances us from the One whom the Word proclaims – Jesus Christ
If worship requires opening our hearts to the love of Christ, submitting our wills to the purpose of Christ, and offering our lives in adoration of Christ; then we need to be filling our minds with the Word of Christ and obeying the precepts of Christ
To wholeheartedly praise and worship Christ we must experience (taste, see, hear, touch, smell), indwell, engage, receive, get caught up in, and re-enact the Word
Praise and worship music should serve the lyrics, and the lyrics should feed people, and the food should be the Word of God. If we don't major on God's Word our songs will drift into emotionalism and self-absorption. But when we feed on the Word – we move beyond ourselves – we enter into the presence of God
Lyrics matter more than music. Tunes should always play second fiddle to truth. We should sing songs that say something – songs that transform the mind and refresh the spirit. And the best way to do this, is to sing God's Word
While the pickings are slim, there are worship leaders, singers, theologians and others who speak about the correlation between praise/worship/singing and Bible engagement. Consider these five thought provoking comments:
"Worship songs can't just be rooted in culture – they won't be deep enough. They have to be rooted in scripture." – Matt Redman
"Scriptures direct worship, enhance the depth of worship, and … are the ancient and living Word that the emerging church grapples with and wrestles with and turns to for guidance and light." – Dan Kimball
"It may seem unnecessary to advocate … for the centrality of the Bible … after all, Protestants are supposed to believe in sola scriptura, scripture alone. In fact, there has long been erosion of the use of scripture in Protestant worship." – Rob Redman
"God must speak to us before we have any liberty to speak to him. He must disclose to us who he is before we can offer him what we are in acceptable worship. The worship of God is always a response to the Word of God. Scripture wonderfully directs and enriches our worship." – John Stott
"A faithful worship leader combines the Word of God with music to magnify the greatness of God in Jesus Christ." – Bob Kauflin
And the lyrics from the chorus of Ancient Words:
"Ancient words ever true. Changing me changing you. We have come with open hearts. Oh, let the ancient words impart."
Have your say. Add your comments …
Recommended Resource: David Peterson, Engaging with God: A Biblical Theology of Worship, IVP, 2002.
© Scripture Union Canada 2015